Discover the Signs of White Ants: Essential Tips for Every Homeowner
White ants, often called termites, silently attack countless Australian homes every year. These small invaders can weaken a property's foundation without making a sound. At D-Tec Pest Solutions, we want to help you to discover the signs of white ants and spot these pests early. So, let's dive into a guide that will teach you how to recognise white ant infestations and protect your home.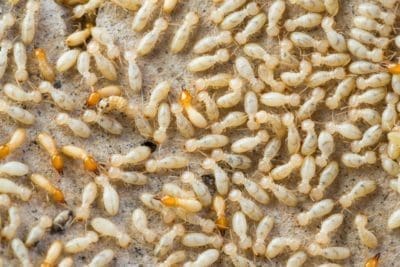 White Ants vs Termites
First off, many people think white ants and termites are different, but they're actually the same. They silently harm our homes, making them a true menace. With a termite queen laying up to 7,000 eggs each day, it becomes crucial to know who you're up against.
Spotting White Ants: What Do They Look Like?
White ants appear as tiny, light-coloured bugs. They might remind you of other insects at first glance. But, if you look closely, you'll notice soldier termites flaunt long jaws, while the damage-causing worker termites appear even smaller.
How Can You Detect White Ants?
Damaged Timber: Find any wood that feels flimsy? This could mean white ants have been dining on it.
Unpleasant Odours: If you catch whiffs of mould or rotting wood, this can point to a white ant issue. They make these smells by releasing moisture as they eat.
Distinct Clicking Sounds: Ever heard odd noises from your walls? These come from termites chatting or munching away.
Shed Wings: Seeing wings around? This suggests flying termites have been nearby. Lots of these wings call for an immediate check-up.
Frass: Find dark, grainy residues? That's frass, a fancy term for termite droppings.
Windows Not Working Right: Struggling with a window that used to open smoothly? Termites might be to blame.
Wood Tunnels: Although hard to spot, tunnels in any wood debris near your home should raise an alarm.
Flying Bugs: Spotting flying termites means a new colony might be setting up shop.
How Quickly Can You Get Rid of White Ants?
With expert help, you can usually send white ants packing in a few weeks. Of course, this varies based on the infestation's size and the chosen treatment.
Do White Ants Cause Trouble?
Definitely! They chew through wood, paper, and more, leading to high repair bills. Act quickly, or they can deal serious damage to your property.
What Harm Do White Ants Cause?
White ants nibble away at wood, leaving it hollow and weak. As time goes on, they can make a structure unsafe.
Act Now! Don't let white ants threaten your home's safety. Reach out to D-Tec Pest Solutions contact us or call 1300725758 or 0433420011 for termite solutions.
FAQs
How long does it take to get rid of white ants?

With professional aid, after the initial treatment, it is usually a month. But each case is unique.

Are white ants bad news?

Yes, they can run up hefty repair bills by harming wooden structures.

How much damage can white ants do?

Over time, they can make a building unstable by eating away at its wooden parts.
Trust D-Tec Pest Solutions to guard your home against white ants!
https://d-tec.com.au/wp-content/uploads/2023/10/Depositphotos_31671963_XL-scaled.jpg
1707
2560
Tanya Glancy
https://d-tec.com.au/wp-content/uploads/2020/10/D-tec-logo-horizontal-transparent-HiRes.png
Tanya Glancy
2023-10-31 19:50:17
2023-10-31 19:52:46
Discover the Signs of White Ants: Essential Tips for Every Homeowner